Emergency FAQ
Campus Safety & Security
If you are on or near campus, you may contact the Security Office. They are open 24 hours a day, 7 days a week.
Emergency number - 651-641-8777
Non-emergency number - 651-641-8278
Meyer Hall 124
security@csp.edu

The Security Department provides a safety escort service for students, faculty, staff, and guest of the university. This escort service has been established to act as a watch guard of personal safety while on campus or in the immediate neighborhood community. Escorts are designed to create a safer walking environment for individuals of the campus community. Escorts are given 24 hours a day and are performed by a uniformed Security Officer who is in radio contact with a dispatcher.
CSP Alert Text Messages
To sign up for CSP Alert text messages, go to CSP Connect, find the "Personal Data" card, and click on Update-Insert Concordia Campus Alert Phone Number.

CSP Alert text messages will notify you of emergencies on or near campus including threats, weather emergencies, and winter parking changes (snow emergencies).
Call 911
If you feel you are in danger or require emergency/police help, notify the police by calling 911 on any phone. Your call will be directed to a 911 dispatcher who will send the necessary help to you (police, ambulance, or firefighters). If your cell phone is an international phone, you will need to let them know that you are in Minnesota. 911 calls get routed to the nearest cell tower based on their phone service.
911 is for use in emergency situations only, and it should not be used in non-emergency situations. If you are calling for non-emergency events you could be holding up the phone line for someone who is actually hurt or needs help. Reasons to call 911 include:
Report a fire
Report a car accident
Call for help because of an injury/medical emergency
Report a crime, especially one in progress
When you feel like you are in danger
Police, fire, and hospitals all have non-emergency phone numbers that you can call for other reasons. They can be found online.
Urgent Care vs. Emergency Room
Please see this example from LewerMark Student Health Insurance.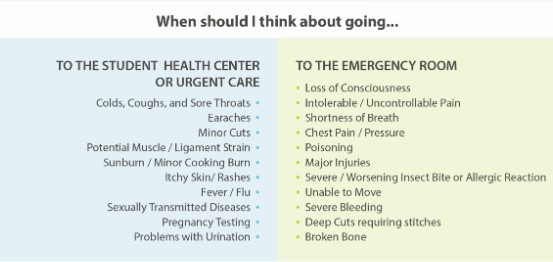 Call, Chat, or Text 988
988lifeline.org
988 is a national network of local crisis centers that provides free and confidential emotional support to people in suicidal crisis or emotional distress 24 hours a day, 7 days a week in the US. The suicide and crisis lifeline provides free and confidential support for you or your loved ones.
CSP Title IX
Concordia University, St. Paul community members shall be able to pursue their interests in a safe and respectful environment free from any form of sexual misconduct. The university will not tolerate such acts against its members, will investigate reported incidents of sexual misconduct, and will apply student conduct action, when appropriate.

Visit CSP's Title IX page for more information and links on:
who to contact during an emergency
report an incident online
campus Security Office contact information
confidential employees students can talk to
24-hour emergency hotline numbers

Sexual Offense Services (SOS): 651-266-1000
Sexual Violence Center: 612-871-5111
Rape & Sexual Abuse Center (for Male and Female Survivors): 612-825-4357
CLUES (Latino Community): 612-746-3537
Crisis Connection: 612-379-6363 or 612-379-6367 (24-hr Men's hotline)

St. Paul Police Department
St. Paul hospitals
Sexual Violence Reporting
Weather Emergencies
Minnesota experiences all four seasons. As such, you will experience a variety of weather including some potential weather emergencies during your time in Minnesota. It is important to be prepared and cautious. Here is some information that will help you navigate weather emergencies:
A weather "watch" means to watch out for changing dangerous weather conditions (ex. tornado watch)

A weather "warning" means to stay in a safe place because severe weather has been indicated by radar (ex. blizzard warning)

Some common severe weather in MN can include:

Severe thunderstorm
Flash flood
Tornado
Hail
Blizzards
Various weather apps have options to receive severe weather notifications.
Some local weather app options include CBS Minnesota Weather, KFYR First Warn, and Valley News Live First Alert Stormteam.
To sign up for city of St. Paul snow alert text messages (including parking restrictions during snow emergencies), sign up
here
. Other cities offer sign up text messaging programs as well. Sign ups by city can be found online.
Visit the ISS Portal
Winter Information page
for more detailed information on winter safety, driving, and activities.
The information contained in this web site is not intended as, and does not serve as, legal advice. It is for informational purposes only and is not a substitute for professional legal advice. Content is subject to change. Neither Concordia University, St. Paul nor the Office of International Student Services is responsible for any errors or omissions contained in this website, or for the results obtained from the use of this information.